Welcome To Our Site

We're an interdenominational ministry seeking to fulfill the Great Commission of Jesus Christ among and in partnership with the Aboriginal Peoples of Canada.
Our Vision: by faith to establish strong indigenous multiplying churches.
We hope our web site helps give you a glimpse of who we are and what we do. Please don't hesitate to contact us.
Joel Welch
NCEM Governing Board
Donate
Help bring the Good News to Canada's First Peoples!
Be an Email Prayer Partner
Be part of God's work among First Peoples through prayer!
PLANTED & ROOTED ...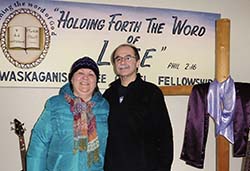 … established Native churches.
As a missionary organization, we regularly report on our evangelistic and church planting efforts.
But what about the Native communities where churches have been established?
… places where the missionaries have moved on and local believers are living out their faith in their families, their work, their worship and fellowship meetings?
In this Northern Lights issue you will meet some of these people and places.
Read these stories and more in our latest Northern Lights magazine online.
also in this issue

On Tribal Trails in October

Dr. Gary Parker talks about the miracle of life before birth, and the value God places on every human life. He tells how evolutionary theories have resulted in very serious consequences, including abortion.
Bill Jackson teaches from the Bible about redemption. Through illustrations and real-life examples, he explains why redemption matters, and how it relates to Jesus Christ.
Ida Shaw grew up knowing "about" God. She got married and alcohol controlled both her and her husband. For their eight children's sake she asked God to help her quit her drinking, and was successful, but she still didn't know Christ personally. One day her husband called long distance to say that he had found someone else. The news broke her heart, and through the ministry of a pastor she made a commitment to Christ.
Ida Shaw shares more about how her broken marriage drove her to seek Christ back in 1984. She then realized that, just as God had forgiven her, there was forgiveness available for her unfaithful husband. From Matthew 5:44, Dr. Emerson Falls teaches what forgiveness is all about in the Christian walk.
Watch online now, or check our television broadcast schedule.