Welcome To Our Site

We're an interdenominational ministry seeking to fulfill the Great Commission of Jesus Christ among and in partnership with the Aboriginal Peoples of Canada.
Our Vision: by faith to establish strong indigenous multiplying churches.
We hope our web site helps give you a glimpse of who we are and what we do. Please don't hesitate to contact us.
Walter Selke
NCEM General Director
Donate
Help bring the Good News to Canada's First Peoples!
Be an Email Prayer Partner
Be part of God's work among First Peoples through prayer!
PLANTED & ROOTED ...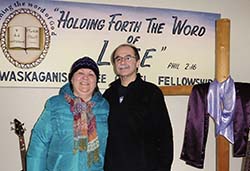 … established Native churches.
As a missionary organization, we regularly report on our evangelistic and church planting efforts.
But what about the Native communities where churches have been established?
… places where the missionaries have moved on and local believers are living out their faith in their families, their work, their worship and fellowship meetings?
In this Northern Lights issue you will meet some of these people and places.
Read these stories and more in our latest Northern Lights magazine online.
also in this issue

On Tribal Trails in December

Fred Evans teaches about the End Times by examining a vision by the prophet Daniel. He explains Daniel's vision in context of the entire Bible and the ministry of Jesus. Also considered is why this vision from the Old Testament matters for people today.
David Dunn explains that, in Christianity, God reaches down to man. In other religions, people try to reach God. Jesus was a Jew, not a white man, and redemption is for all peoples. It breaks down the barriers between cultures and ethnic groups. In this way, Ron Freeman and Glenn West overcame differences and became unified in Christ, and sing of that love to others.
Thomas Moore talks about how, at Christmastime, we have replaced the birth of Jesus with many worldly things. He encourages us to think more about Jesus and His purpose for coming to earth. We need to make changes in how we celebrate to bring back the true meaning of Christmas.
Mostly through music, our program takes a look at Jesus's birth – how the real message of Christmas is about Jesus coming to earth to live among us. But this was only the beginning. This same Jesus would also die so that we may have abundant life here on earth and eternal life in heaven with Him.
Gary Parker explains how, through creation, God shows His glory. Through Scripture and science Dr. Parker tells how the Creator of the universe made the earth special … because he cares for us human beings!
Watch online now, or check our television broadcast schedule.