Welcome To Our Site

We're an interdenominational ministry seeking to fulfill the Great Commission of Jesus Christ among and in partnership with the Aboriginal Peoples of Canada.
Our Vision: by faith to establish strong indigenous multiplying churches.
We hope our web site helps give you a glimpse of who we are and what we do. Please don't hesitate to contact us.
Joel Welch
NCEM Governing Board
Donate
Help bring the Good News to Canada's First Peoples!
Be an Email Prayer Partner
Be part of God's work among First Peoples through prayer!
PLANTED & ROOTED ...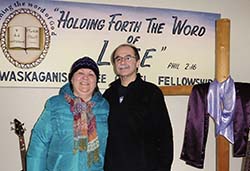 … established Native churches.
As a missionary organization, we regularly report on our evangelistic and church planting efforts.
But what about the Native communities where churches have been established?
… places where the missionaries have moved on and local believers are living out their faith in their families, their work, their worship and fellowship meetings?
In this Northern Lights issue you will meet some of these people and places.
Read these stories and more in our latest Northern Lights magazine online.
also in this issue

On Tribal Trails in July & August

Here are some of our guests for July & August … all previously aired. Watch again or for the first time!
Rosanne Swaine had everything she wanted, but still felt empty inside. She believed that a person has to "help yourself" and not depend on God or anyone else. Then God allowed her world to fall apart. When she finally got serious with God, He put her life back together with purpose. Now Rosanne enjoys her life and walk with God!
Liz Genaille's childhood was hard. Her mother died when she was a toddler and her father became an alcoholic. She had a longing to know God as a youngster, but life got even worse after marrying Bert, who was addicted to alcohol and gambling. After attempting suicide she heard the Gospel in 1975 and found new life in Christ!
Todd Dowty tried to control his own life and did not think too much about God. He was divorced and struggling. Things improved for awhile, but he went back to his old ways, got into drug abuse which almost cost him his life. Then God provided a miracle!
Martin & Sue Bear now help people find freedom from addictions through Christ. But they first had to realize that, in order to assist others, they needed to deal with their own wounds. They completed a counseling course, and started an outreach Bible study on their Reserve in Canada's Atlantic region.
Bill Jackson and Emerson Falls speak about hope and how we can stand strong, no matter what life has to offer. Even through disappointments and sorrows, we have the full assurance that God's promises will not fail. God's hope is better than earthly hope!
Watch online now, or check our television broadcast schedule.